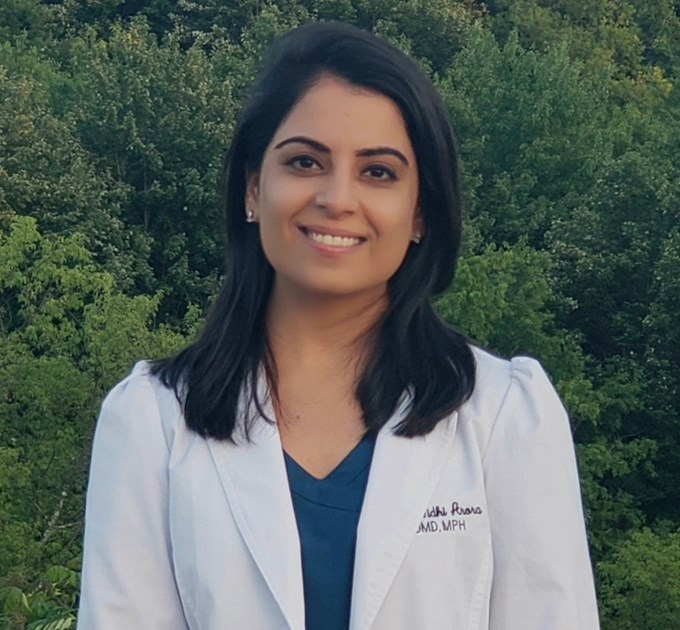 Dr. Nidhi Arora is a general dentist who is dedicated to providing a gentle, informative approach to dentistry. Her goal is to help her patients achieve optimal oral health.
Dr. Arora attended Boston University School of Dental Medicine, where she served as the elected class representative for two years and earned her Doctor of Dental Medicine degree. Following graduation in 2016, Dr. Arora has received sub-specialty training in the field of Dental Implants at the acclaimed Misch Institute. Dr. Arora's additional interests include aesthetic dentistry to give each patient a smile they feel confident and comfortable in. She is well versed in all facets of general dentistry and strives for the highest quality of care in a personalized manner tailored to each patient.
In addition to her body of clinical experience, Dr. Arora's diverse background includes extensive work in the field of dental public health. She has earned a Master's in Public Health (MPH) from Columbia University, where she also worked as an Epidemiologist following graduation. Dr. Arora's commitment to dental public health includes a broad range of international experience ranging from working at the World Health Organization (W.H.O) in Switzerland to field work in clinic for underserved populations.
Dr. Arora enjoys constantly learning and applying the evolving cutting-edge technologies in dental care and has contributed to the field of dentistry in her own right through published research.
Outside of work, she enjoys spending time with her family, going for long walks, painting and dancing.